Saturday, July 12, 2008

Nickname(s): Danka/Dani
Country: Slovakia
Residence: Monte Carlo
Date of birth: April 23, 1983
Age: 25 years old
Place of birth: Poprad,Slovakia
Height: 5'11 1/4'' (1.81 m)
Weight: 137 lbs. (62 kg)
Plays: Right (two-handed backhand)
Turned pro: May 1999
Career Singles Title: 3
Highest Ranking: No. 5 (August 26, 2002)
Current Ranking: No.12

Hantuchova's game is built around natural timing. She is able to produce "effortless" power from her flowing groundstrokes and possesses a superb down-the-line forehand and backhand. She possesses a heavy serve and has a particularly effective "kick" second serve. Her favourite and most effective construction of a winning point is her flat serve out wide on the Ad-court, followed by a backhand winner down the line. Her volleys are very well-produced and often have the deftest of touch. Due to these attributes she is known as an "All-arounder". A weakness of Hantuchova since she emerged from the juniors was her lack of explosive movement around the court. In recent years, however, this aspect of her tennis has been vastly improved.
She is currently working with a number of coaches who work out of the Sanchez-Casal Academy, primarily Angel Gimenez and occasionally with Eduardo Nicolas.

Other notes about Daniela:

likes all-court style of play
prefers grass as a surface, and her favorite tournament is Wimbledon
father is named Igor, and that he is a computer scientist
mother is named Marianna, and that she is a toxicologist
5 yrs older brother is named Igor, and that he is an architect working in Bratislava
entire family plays tennis
speaks Slovak, English and German and is learning Italian
got qualified for top university in Slovakia but deferred it to pursue a career as a professional player
other sports interests include skiing, basketball, skating and swimming
studied classical piano for eight years until she was 14
trained at Bollettieri Tennis Academy between ages of 16 and 18
enjoys haute couture, music, guava juice and relaxing on a quiet beach
favorite city is Rome and likes to visit Cape Town, South Africa
would love to go snow-boarding and water-surfing
favorite movie is "Love Actually"
likes music by Eros Ramazzotti
was named 2002 WTA Tour Most Improved Player of the Year
was nominated for Laureus World Sports Award as 2002 World Newcomer of the Year fellow nominees: Daniel Nalbandian (tennis), Yao Ming (basketball), Wayne Rooney (football) and Joachim Uytdehaage (speed-skating)
WTA Tour mentor was Martina Navratilova in the Partners for Success program, the mentor division of the Professional Development Program.
Here's Daniela with her family: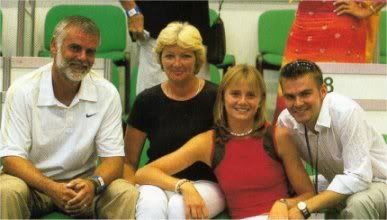 Source:Wikipedia and
www.hantuchova-fan.com
Blog Archive